Public Transit Returns to Pictou County
Launch Press Release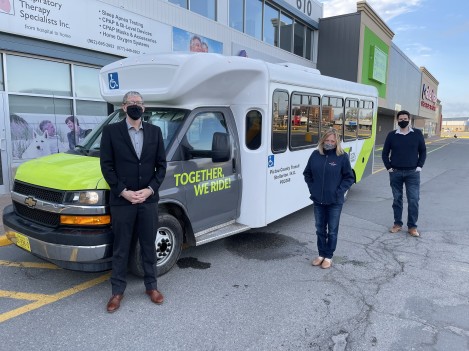 The Towns of New Glasgow and Stellarton are pleased to announce the launch of a new bus service, "Pictou County Transit". We will pick up our first passengers this spring. Pictou County has not seen public transit since 1996. The community is excited for its' return!
Pictou County Transit is a three-year pilot project. It is a one-hour bus loop through the two towns. We need to prove the service is needed and sustainable. It is very important the community support the service by using it. Ridership numbers will determine if the service continues past the three-year pilot phase.
Our hope is that after the three-year pilot, neighboring municipalities will join the service. That is why we named it Pictou County Transit.
The new, fully accessible, one door for all, low floor bus is now on site. It is the first low floor bus in Pictou County, and came to us at a cost of $190,000. The Province of Nova Scotia purchased the bus for Pictou County Transit. The Province of Nova Scotia is also fully funding the first year of operations. Year two and year three will see Stellarton and New Glasgow pay $50,000 and $100,000 annually, respectively.
We are now in process of obtaining our Motor Carrier License through the Nova Scotia Utility and Review Board. This can take up to 90 days, thus we do not have an exact launch date until that process is completed. It will launch this spring. As soon as we know the exact launch date, we will communicate it out to the community.
The two towns have contracted CHAD Transit to manage Pictou County Transit, and provide a back up bus as needed. This partnership ensures the towns have transportation people managing the operation, and provides significant savings, as Pictou County Transit does not need to purchase a back up bus for the service.
The fare to board the bus will be $3. A day pass will be $7.50, you can board and un-board as many times as you like in one day with a day pass. Monthly passes are as follows: Adults (14-64) $70, Senior (65+) and students (high school or NSCC) $60. Children aged 6 -13 $40, while children under five ride free.
The fixed stops will be Aberdeen Business Centre, New Glasgow Library, North End Rec Centre, Westside Shopping Plaza, Highland Square Mall, Pictou County Wellness Centre, NSCC, corner of Foord Street and Queen Street (near Tim Hortons), corner of East River Road and Pine Street (across the street from the hospital).
In addition to the fixed stops, we also have flag stops. A significant portion of the route will allow clients to flag the bus down to stop. Flag stops will be available everywhere except on the busiest streets, examples East River Road, Foord Street, Acadia Avenue and most of Westville Road.
Please stay tuned, as over the next month Pictou County Transit will be launching a website and Facebook page. They will contain all pertinent information. Including the route map, complete with fixed stops, and highlighting areas where a flag stop is appropriate.
Pictou County Transit will operate Monday to Saturday, 7:00am – 9:00pm.